The Nation's 31 Best Beer Bars According to Thrillist.com
Is yours here? Tell us if you've been to any! Was it better than your hometown favorite? Thanks to Cole Saladino/Thrillist for the header photo and Thrillist.com for the list.
Traverse City, Michigan
Truth be told, idyllic Michigan lake town Traverse City's much more renowned for wine (and cherries) than its beer culture, although this being Michigan there are assuredly some fine local breweries in the area. And, also, there is 7 Monks Taproom. The 46 taps and robust bottle selection lean heavily on mitten-based brews, though there's also strong Belgian representation, as is obligatory whenever a bar has "monk" in the name. Talk up the bartender, because many of the taps will be draft-only Michigan releases that won't be around long, then settle in for the long haul with one of the fantastic wood-fired pizzas to keep you company. Monks recently opened a sister bar in Michigan beer mecca Grand Rapids, but the original is still the best. Must be the Lake Michigan sunsets.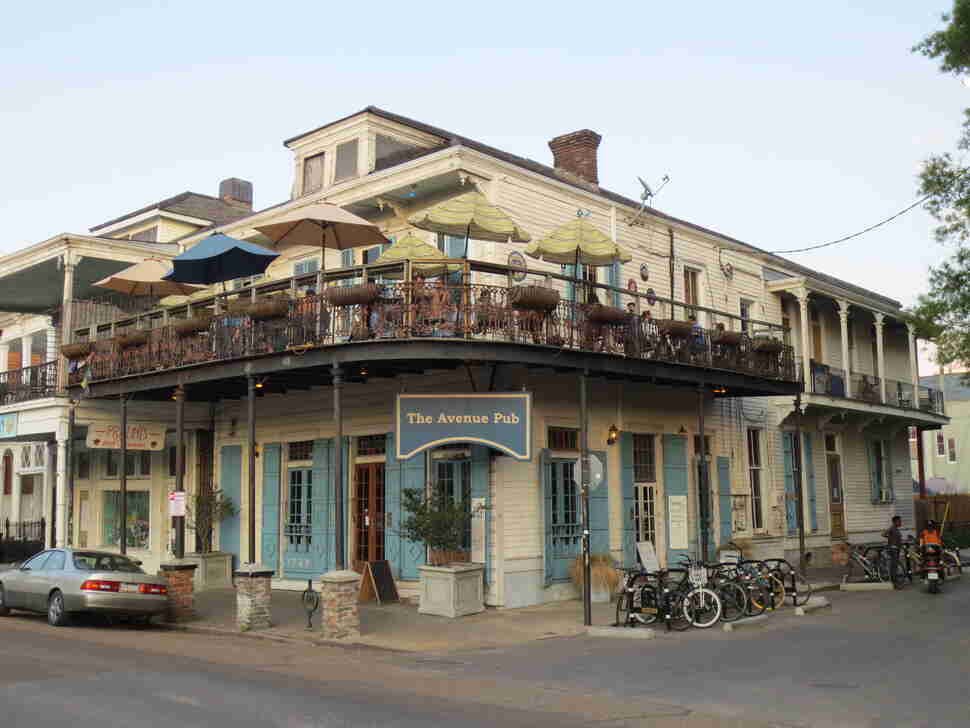 New Orleans
New Orleans is a renowned drinking city most celebrated for its cocktail game, but the fact that The Avenue still manages to stand out among the famed cocktaileries of the city is a testament to its greatness, and a strong argument in favor of the 24-hour beer bar. The tap list is heavy on one-and-done offerings with enough rarities to keep the nerds at bay, while the bottle list is about as thick as a small-town phone book, offering up everything from Belgian farmhouses to Italian goses to all-American IPAs, all of which taste considerably better while perched on the balcony overlooking St. Charles and paired with the famous pork/béchamel/au jus-soaked Dump Truck fries.
Chicago, IL
When cicerone Chris Quinn opened The Beer Temple in 2013, it quickly gained a following among Chicago's beer geeks as arguably the city's most essential bottle shop, providing a reliable outpost for hard-to-find releases and usually a free sample of something interesting they'd opened behind the counter. So it came as no surprise when they expanded the space to include a cozy taproom in 2017 that it proved to be equally outstanding. The 20 draft lines are guaranteed to include something that'll grab the attention of even the most jaded beer drinker, the bartenders are deeply knowledgeable yet approachable, and the bottle shop will inevitably beckon you to grab some take-home souvenirs after you've had a few. Maybe play a round of darts first, though.
Portland, Oregon
Portland's got enough great beer bars to fill up half this list, but no such list is complete without Belmont Station. Like Cameron Frye's house, the place is cold, and like a museum. Except you're allowed to touch (and drink!) everything. That includes 1,200 bottles from every corner of the world — among them whole sections of Belgians and Germans — plus seasonal one-offs and rarities from America's best brewers. Basically, if a beer is available in bottles on the West Coast, Belmont Station has it. Even better, you can pop those bottles in the Biercafe next door, which includes 20+ taps that always feature Belgians and small-batch miracles from Stumptown's best brewers, many of whom use Belmont as the unveiling spot and testing ground for new creations and tap takeovers.
New York, New York
For the last two decades, through booms and busts, through Giuliani and gentrification, the West Village's Blind Tiger has managed to maintain its status as New York City's best beer bar. Why? Because it's timeless. In a city like New York, reliability is tough to come by, and Blind Tiger is nothing if not reliable. The vibe is divey and approachable (battered wood fixtures, stone fireplace), the barkeeps exude just the right mix of attitude and charm, and the food menu is teeming with tasty comfort classics. In the mood for a rare vintage Belgian Trappist ale? This place has you covered. Looking for Other Half's latest hop-bomb? No problem. Chalked up old school-style above the bar, the draft list is a thing of sheer beauty, with 30 crystal-clean taps pouring everything from obscure imports to local gems. Stay gold, Blind Tiger, the city needs you.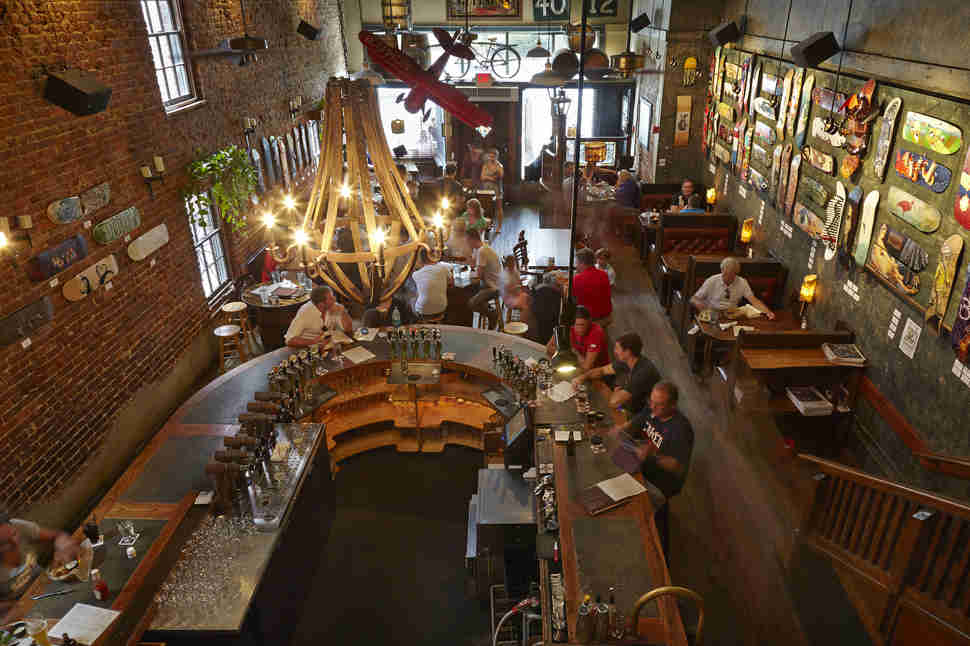 Decatur, Georgia
For the last two decades, buddies Dave Blanchard, Mike Gallagher, and Tom Moore have been supplying the fine folks of Decatur with more pickles, pimento cheese, fried grit cakes, and world-renowned craft beer than you can shake a stick at. Despite its laid-back Southern vibe, Brick Store does not mess around when it comes to beer, housing not one, but two completely separate beer bars. The historic building is centered around the main bar, a super-chill sunlit pub with soaring exposed brick, high-backed booths, and a massive horseshoe bar lined with 29 gorgeous taps, a handful of which are reserved for Georgia favorites like Creature Comforts, Steady Hand, and Cherry Street. Upstairs there's the Belgian Bar, an intimate, eight-tap ode to the owners' life-altering trip to the sudsy motherland. And don't forget to peek into Brick Store's ridiculous upstairs beer cellar, where the guys have been casually aging nearly 900 different vintages. No big deal.
Milwaukee, Wisconsin
At the very best beer bars, the beer itself is simultaneously fantastic and somehow not the best thing about the bar. This is very much the case at Burnhearts, where you'll find a thoughtful, just-right-sized tap list heavy on Wisconsin and Michigan's finest, plus a deep selection of rare bottles (ask about Carl's Secret Stash). But somehow even more importantly, Burnhearts is impossibly welcoming, devoid of pretension, and the kind of bar where you can feel like you've been a lifelong regular in one afternoon (which will likely end up bleeding into the evening), whether you're playing game after game of shuffleboard in back or chatting up the friendly staff up front. Come February, the (outdoor!) charity-minded Mitten Fest brings in people from all over to enjoy some rare beer, live music, and the fact that Wisconsinites refuse to let winter spoil a good time.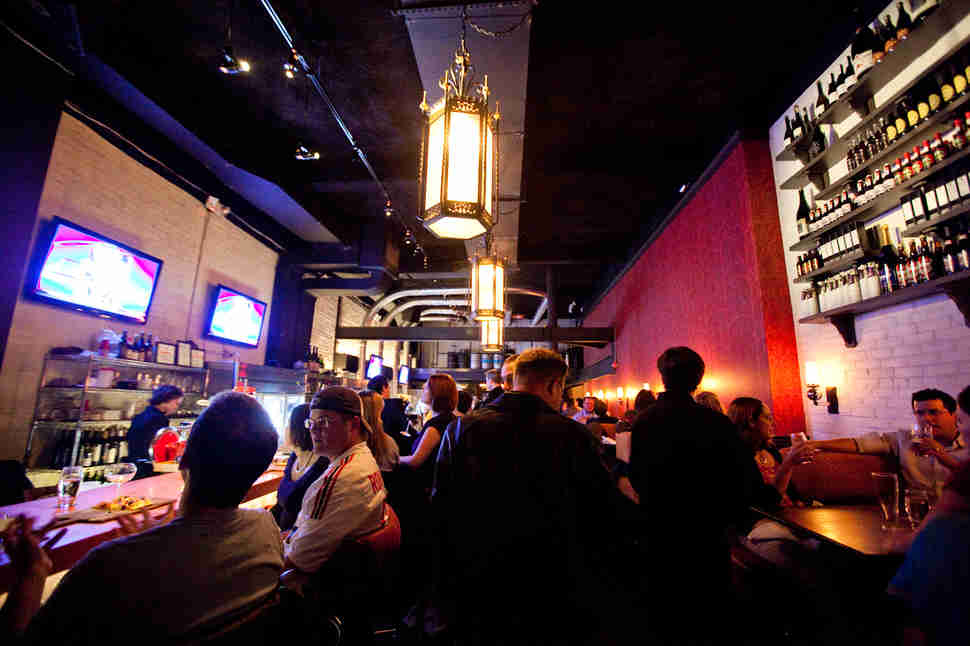 Washington, DC
Truth be told you could put ChurchKey anywhere in the world and it'd instantly be on the short list of the best places to enjoy a beer (case in point, we even named it one of the best beer bars on the globe). With 55 draft lines and 500+ bottles, this pilgrimage-worthy spot manages to deliver on the utmost quality in addition to quantity. In addition to the expected lineup of domestic limited releases and collabs one would expect from a top-flight beer bar, ChurchKey particularly excels at having its finger on the pulse of what's happening craft-wise overseas as well, allowing you to one-up your friends by saying things like, "I've really been impressed by what's happening in Estonia's beer scene lately" with complete seriousness.How the Hazy New England IPA Conquered America
Charleston, South Carolina
We love you, Edmund's Oast. And we also love the fact that you're now a full-blown brewery, which frees up a space in South Carolina's booming beer scene for a spunky newcomer like Craft Conundrum, a place that from the outside looks like it could house anything from a dentist's office to a Hallmark, but instead hosts 150 or so taps available in pints or growlers to go. The whole thing's curated by folks who used to select the beer for a Piggly Wiggly, which would be hilarious if it didn't make us start wondering whether Piggly Wiggly might actually be a killer bottle shop, what with CC offering hard to find wares the US, Belgium, and beyond. Oh, and considering the place is in a strip mall near a grocery store (that was also once a Piggly Wiggly), there's ample room for food carts to park outside.
Austin, Texas
Located in the heart of a quaint neighborhood-turned booming bar district, Craft Pride reclaimed the curly and longleaf pine from the previous Rainey Street tenants and turned it into a temple to Texas beer. The 50+ taps and two casks all spew Texan suds and pan-European rarities that are available in tasting flights or served in imperial glasses to allow for a proper foamy head. Expect a rotating cast of local treasures, and don't forget to order pie from Detroit-style masters Via 313 from the trailer in back, which you can eat on-site or with a to-go beer from Craft Pride's amazing bottle shop.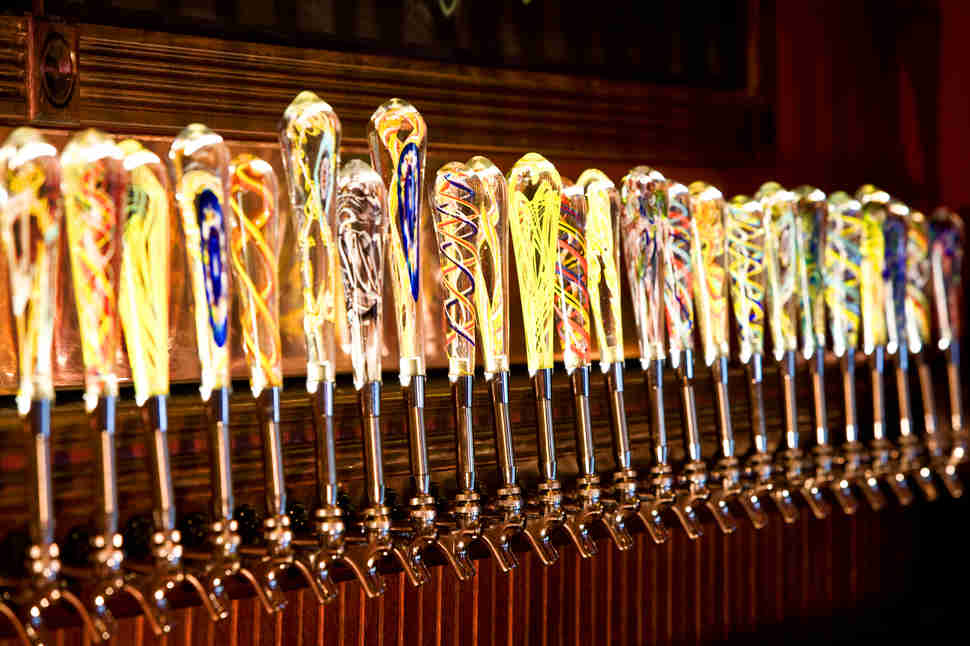 Lovell, Maine
Sure, it's a little odd to call a small Maine town with a population hovering around 1,000 a beer destination, but even if Ebenezer's was located in the seventh circle of hell (or, even worse, Gary, Indiana), we'd be flocking. The place offers up more than 700 bottles and a Belgian-intensive tap selection in a cozy house that could easily be mistaken for one of the many farmhouses that double as bars in the Belgian countryside, apart from the uniquely Maine sight of snowmobiles parked outside during the winter. The place has so much clout that in 2007, the brewers at Belgium's De Struise brewery took notice and developed Black Albert — a royal stout considered one of the world's finest — just for Ebenezer's. It's the very definition of destination drinking. Just be sure to check the hour before you go. That's a long way to journey on a snowmobile only to discover they're closed on a Tuesday.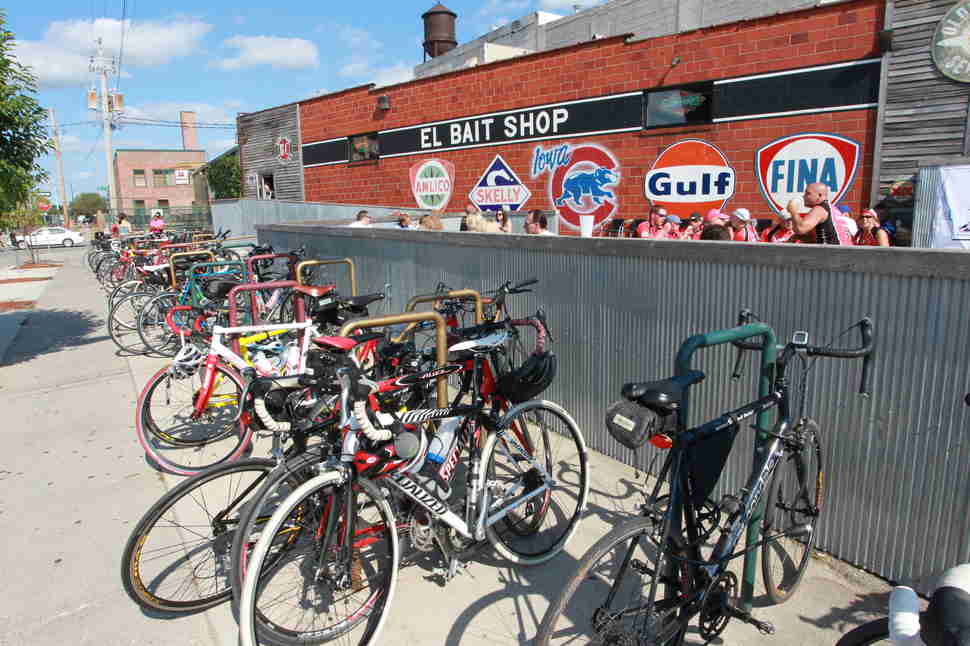 Des Moines, Iowa
As craft beer's become more of a "thing" in recent years, there's often a race to be the next bar in town with the most taps, and that's not always a good thing — some establishments don't take the care and forethought required to offer more than 100 taps and manage them well. With 180-plus beers on tap, El Bait Shop is definitely NOT one of those places. Instead, it couples a delightfully divey roadhouse atmosphere with a massive yet well-maintained beer program (make sure you take advantage of any Toppling Goliath you find on tap), an impossibly friendly staff (this is Iowa, after all), and perfect beer-pairing bites like the crispy broasted chicken and Velvet Elvis dip (just get it, don't ask questions. This Summer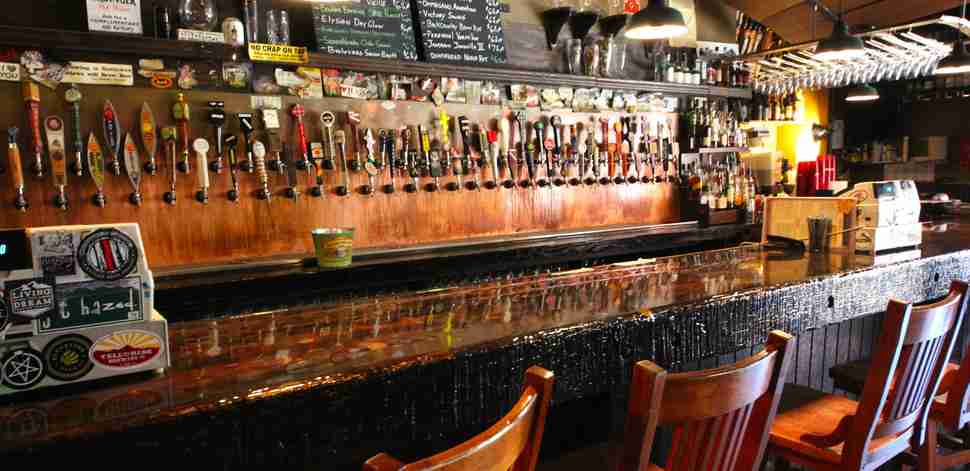 Denver, Colorado
The phrase "less is more" sometimes can apply to beer bars with a small, curated list of rare, specifically chosen beers, but in the case of Mile High's Falling Rock, more is more. It's not only one of Denver's more important bars, it's easily one of the country's, with ~30% of the eight dozen or so taps featuring CO beers, along with 100+ bottles from around the world. And when Denver is overtaken with breweries during the Great American Beer Fest, seemingly every top craft brewery in the nation (Cigar City, Bell's, New Belgium) stops by to pay its respects with a special tapping. It's the beer-industry version of kissing the ring.
Burlington, Vermont
When you think of Vermont's finest brews, one beer likely comes to mind, and it rhymes with Heady Topper. And Farmhouse has it! When it's not sold out. But if you're lucky enough, you'll go on a night when it's in stock. But if you're not lucky enough to score it, you're still pretty damn lucky, as you can select from 30 taps at all three of its bars filled with exceptional VT beers from Lawson's, Good Measure, and Hill Farmstead. And if you're in a sour mood (not the kind that annoys everyone around you — the kind where you're in the mood to drink a specific type of beer), there's plenty of bottled goodies. Can't believe we got through this entire blurb without mentioning Phish! Ah, shit.
San Diego, California
Housed in a location that has had a beer and wine license for more than 75 years, this place has undergone several transformations over time, but the history of good beer-drinking is long, and the atmosphere remains welcoming and divey — pool tables, shuffleboard, a stellar jukebox, and tap handles hung from the ceiling can attest to that. But what sets Hamilton's apart in a town with more great beer bars than most states can claim is its 25+ West Coast-obsessed taps that pour regional pride, and the seemingly endless bottle list that makes sure rarities and beloved beers from the rest of the world have a place at the bar, too.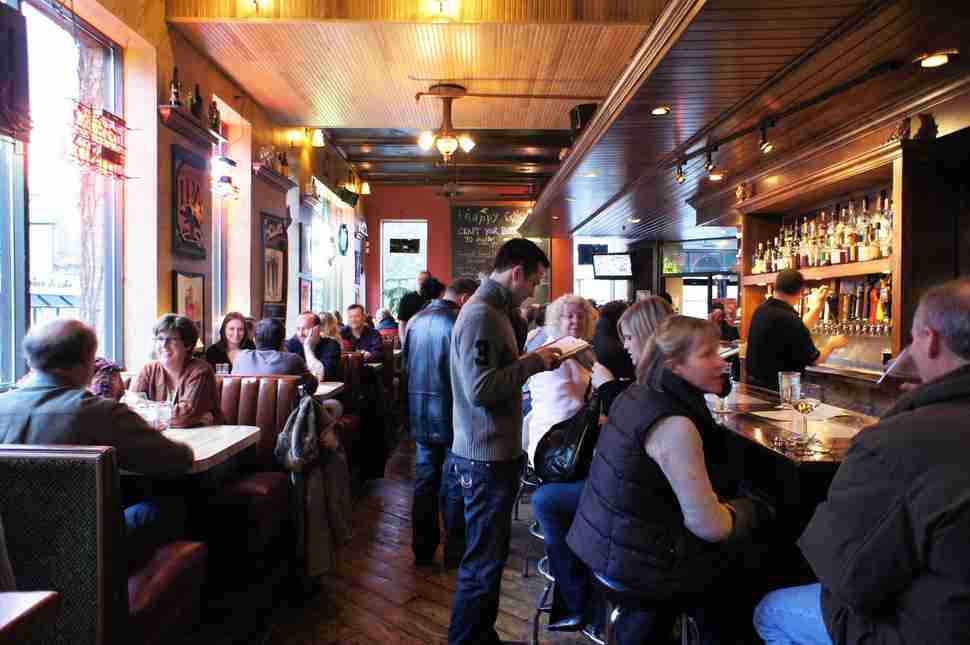 St. Paul, Minnesota
Despite the diminutive name, you'll want to arrive here with a giant-sized appetite, because not only is the 70-strong draft list (helpfully broken down into categories like "hoppy" or "sessionable") deep on Midwest favorites reliably on point, but the burgers are also not to be missed — try the one Game Burger with elk, bison, bacon, and lingonberry aioli. Better yet, have that burger and beer (or let's be real, beers) on the patio when the Minnesota weather permits, because let's be honest, the time between Memorial Day and Labor Day is the best time to be in the Land of 10,000 Lakes.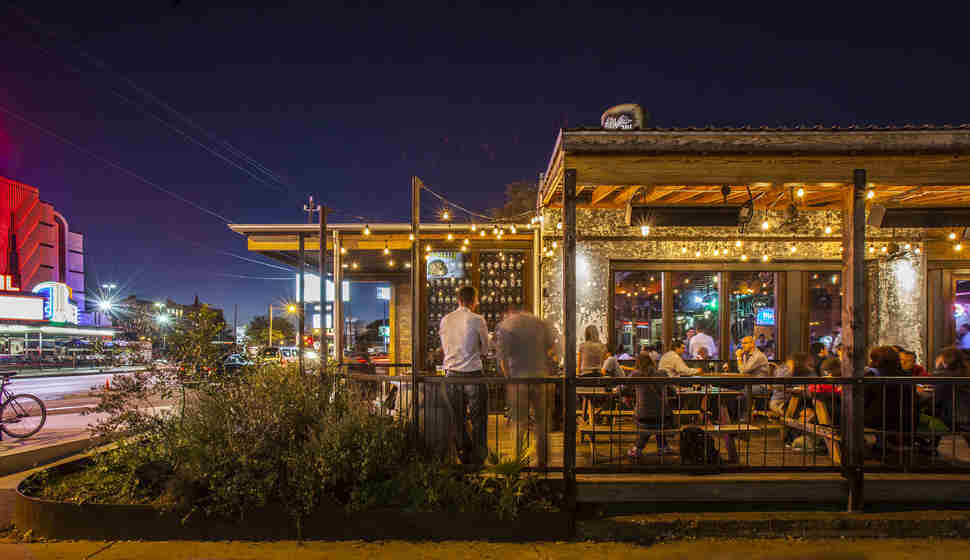 Houston, Texas
Like The Happy Gnome before it (er, above it, since it's the bar directly above it alphabetically), The Hay Merchant serves both Houston's best beer experience and one of its best burgers in the form of the UB Double Double. Actually, it's now called the Cease & Desist burger, thanks to a court order served by In-N-Out. For you, though, the burger's just served with Houston's best beer selection, courtesy of 80 taps — including five casks — that run the gamut from lawnmower to rare & dynamic to the "not for the faint of heart" selection of barrel-aged one-offs and other rarities. And if a burger's not big enough for you, they'll also roast you half a pig's head, which pairs wonderfully with one of the aged barleywines that they have on tap. For real.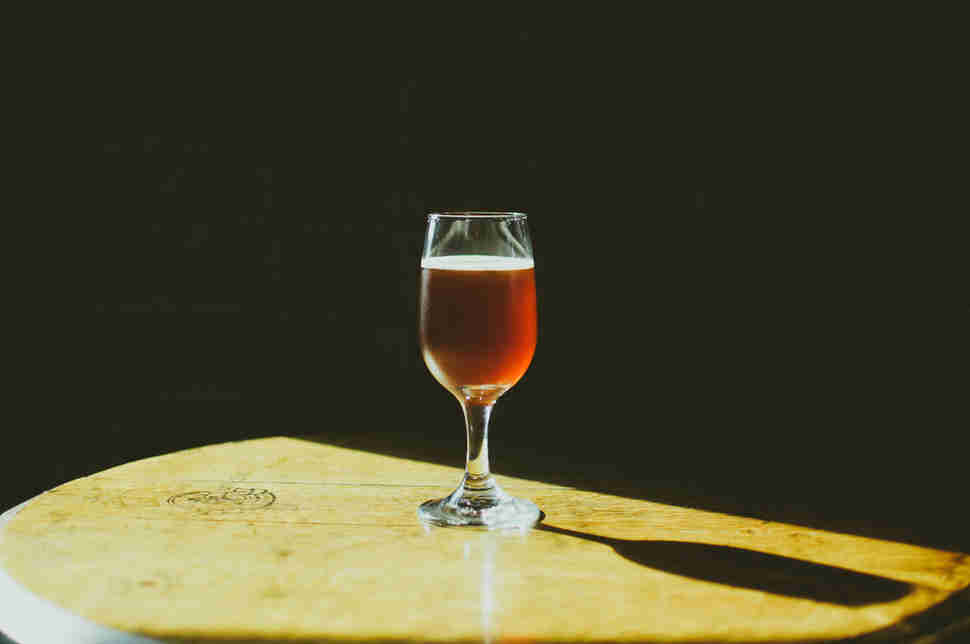 Louisville, Kentucky
Yes, the name is pun-tastic. Yes, the fact that it inhabits an old turn-of-the-century (no, not the 21st century) Unitarian church makes the name almost TOO appropriate. But none of that would really matter if they didn't back it up with the beer, which they most assuredly do, especially in the choir loft, with limited seating, limited hours, and a small tap selection of one-offs and rarities. The fact that there's a rotating menu where everything from bone marrow poutine and green curry mussels have appeared involved doesn't hurt either. One could describe it as sinfully good, but that'd be overkill.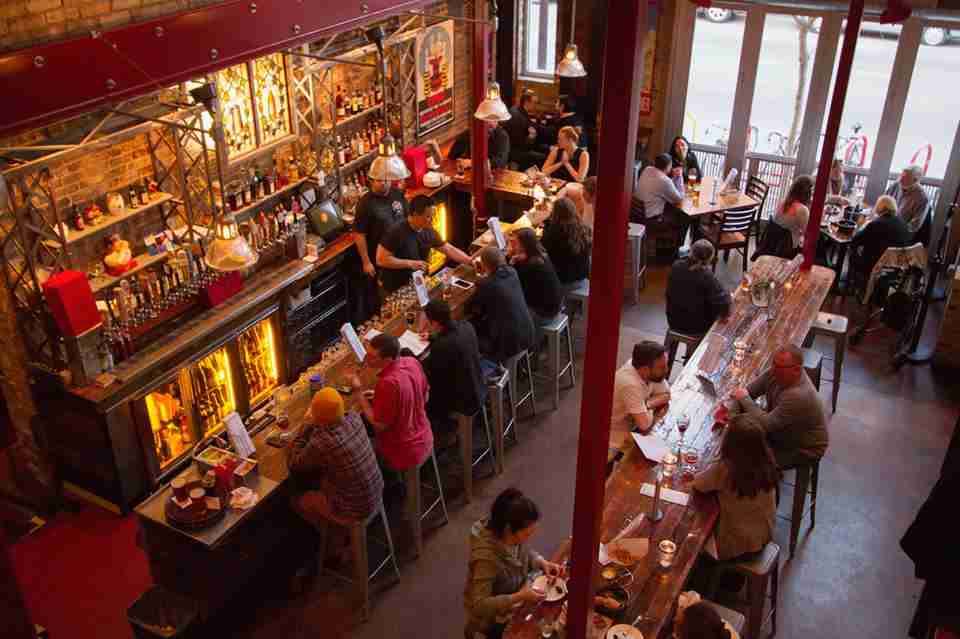 Chicago, Illinois
One of the Windy City's OG bars for serious beer (opened in 1992), Hopleaf has been steadily drawing patrons from all over the city and beyond to the North Side neighborhood of Andersonville thanks to their encyclopedic beer selection (specializing in Belgian offerings, but don't sleep on their stateside lineup either) and incomparable, heaping servings of moules frites. A 2012 expansion, which nearly doubled its size, alleviated the crowds somewhat, without alleviating the cozy, "I could drink here forever," Old World charm that made it such a draw in the first place.
Portland, Oregon
Apex, Bailey's Taproom, Loyal Legion, Saraveza… there are tons of great beer bars in Portland, but without Horse Brass, they might not exist. It's no exaggeration to say that the late Don Younger was ahead of his time in unleashing his craft-beer obsession on Portland back in 1976, opening his authentic-as-Abbey-Road (despite having never having been across the pond) Brit pub with a careful eye on beer. These days, the lineup includes 70 or so taps that change so often that the weekly menu printouts are marked up by hand with substitutions. It's a place where the best Portland brewers first ship their new experiments, and where visiting brewers will host secret guest taps for true believers. It's also one of the best British pubs outside of Britain, right down to the halibut fish & chips. You'll often hear a Portland beer snob gripe that it's "not the same as it used to be." No, my friend. The Horse Brass hasn't changed. You have. And if you've been there for more than five minutes, at least two kegs have changed, too.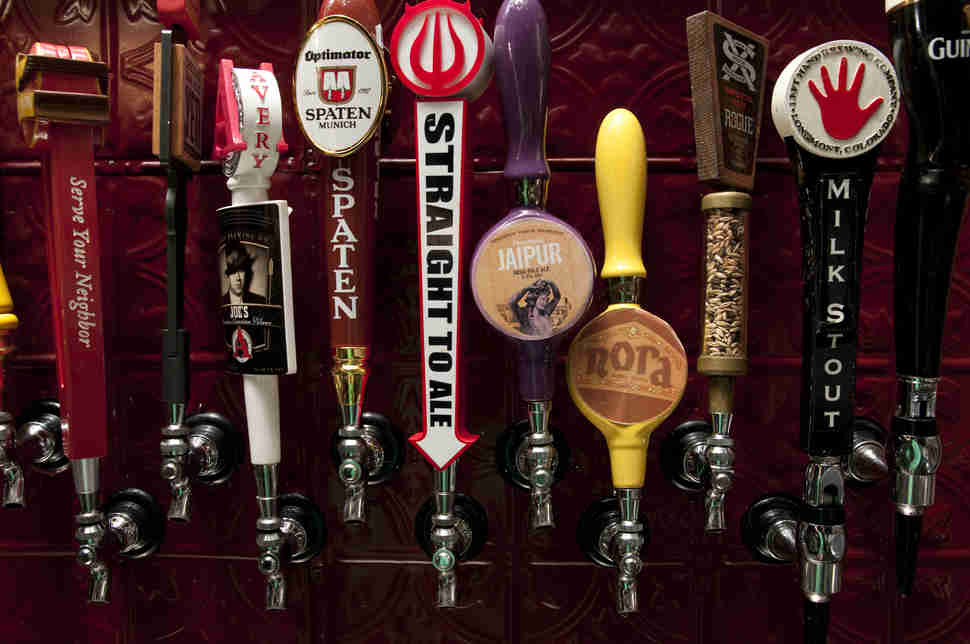 Birmingham, Alabama
With its cut-stone walls, sloping ceiling, and ye-olde vibe, The J. Clyde looks more like The Hobbit's backlot than Alabama's best gastropub, but rest assured, there's nothing outdated about this tavern's killer craft lineup. In fact, The J. Clyde has all the makings of a truly great beer bar — the staff is on point, the burgers are little bastions of melt-in-your-mouth greatness, and it keeps its 60+ taps (including over a dozen local brews and tons of rare stuff) organized into six taste-related categories (i.e., Crisp, Roast, Hops), making menu navigation a total breeze. Also, Alabama-brewed pints are half off every Tuesday. That's like 8 ounces of free beer, y'all.
Cambridge, Massachusetts
Lord Hobo (great name, right?) is one of said establishments that has taken to brewing its own quite respectable beer (albeit off-site), but LH remains, at its core, a standout beer bar in a state with some other excellent ones (Sunset Grill & Tap, Meadhall, etc.). The 40 taps offer everything from the best New England breweries have to offer to interesting Euro selections — when was the last time you had a craft beer from Norway? Hey, no cheating, people from Norway! It takes the food just as seriously as the beer — think charred octopus with pickled bok choy — because you aren't just some hobo. You are LORD Hobo.
Baltimore, Maryland
Max's looks like it could be pretty much any bar in Baltimore — it's a brick, two-story corner bar lit by LED screens for thirsty Ravens fans. But frankly, you've gotta be big and cavernous just to fit the sheer volume of beer available here, which includes about 150 taps, five casks, and 1,000+ bottles from around the world. Everyone from Oxbow to Flying Dog to Chimay and Burning Sky are likely to show up in this behemoth, which offers a great middle ground between hardcore beer drinkers seeking something rare and less knowledgeable folks looking to explore the world of hops without feeling intimidated. They also host an annual Belgian fest featuring old-school ales from around the world, and weekly $6 32-ounce beers (in plastic cups!) during Big Ass Draft Friday. Just because your palate left college doesn't mean your drinking vessel has to.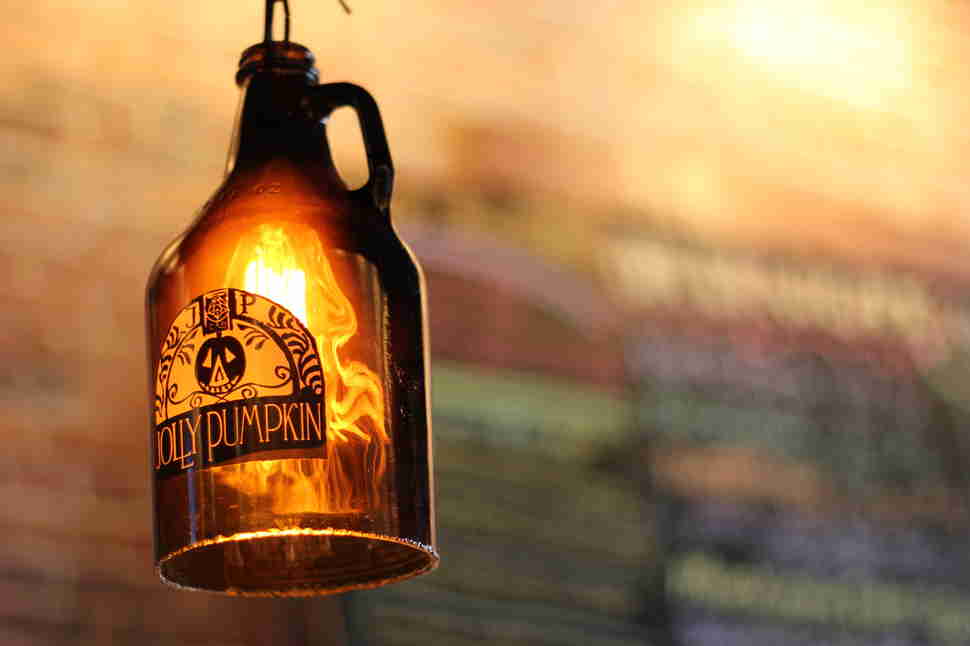 Ludington, Michigan
Michigan is a land steeped in pride. It's not the "Pretty Good Lakes State," after all. And as beer joined great music and hockey among the state's pride points, this rustic tap room in the beautiful Lake Michigan town of Ludington rose to meet the demand of all Michigan beer, all the time. That means a rotating selection of the best of the best from Michigan's legendary breweries — Founders, Bell's, Jolly Pumpkin, Short's, you name it — plus wares from the up-and-coming purveyors that are contributing to Michigan's rise to the top of any self-respecting list of great brewing states. It's friendly. It's expertly curated. And it's the perfect place to drink in some state pride while remaining optimistic that this year will finally see the Lions go to the Super Bowl.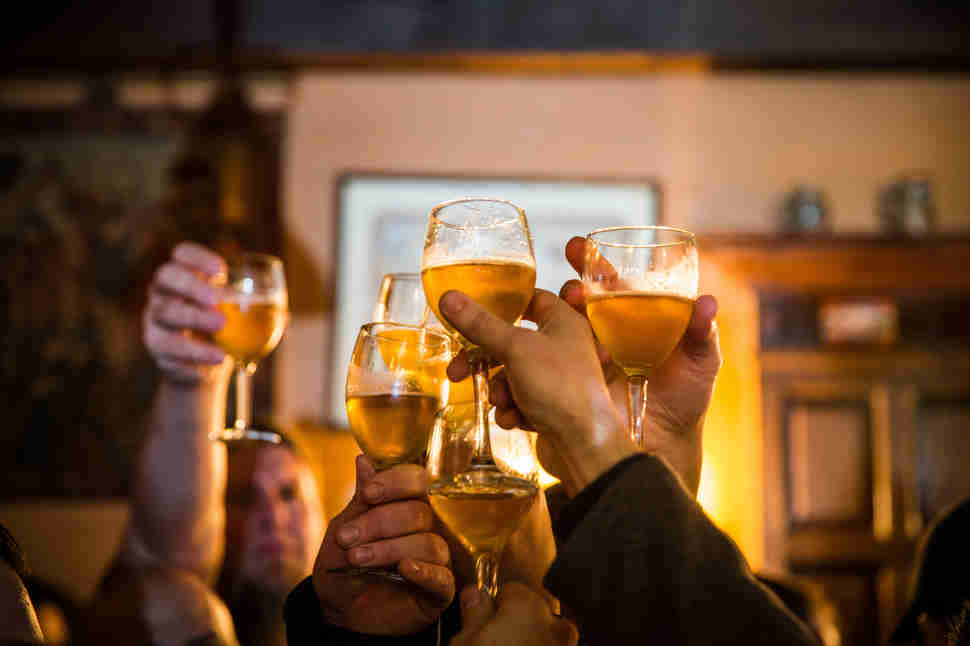 Philadelphia, Pennsylvania
Back in the '80s, owner Tom Peters had to convince people to spend $8 on a bottle of Chimay — nowadays, Monk's has little trouble finding people who want to drink from their 300+ bottles, mostly from Belgium. With antique Belgian beer signs hanging on the wall, the vibe is based on some of Peters' favorite cafes in the European country. The 25 seasonal, mostly Belgian brews on tap pair nicely with the elevated pub food that has achieved local acclaim, like the stout-braised lamb shank and Thai curry mussels made with Monk's own Flemish sour. In addition to more well-known Belgian breweries' wares that're offered, Monk's also features some of the newer kids on the brewery scene there, including ones that even some of his customers from Belgium have never heard of.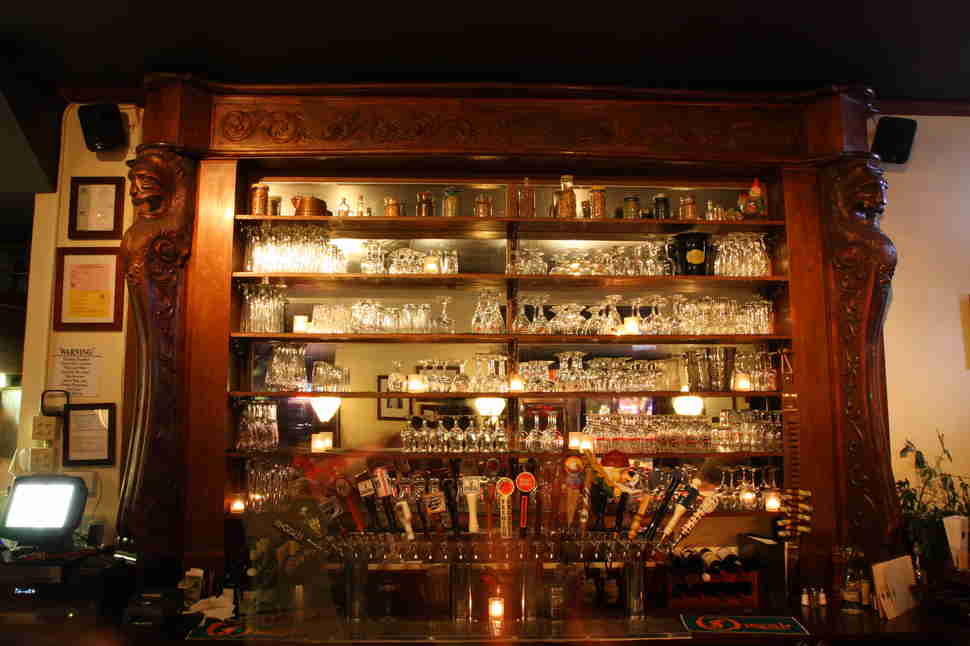 San Francisco, California
When Monk's Kettle started peddling upscale New American cuisine and fancy craft beer out of a former burger joint in San Francisco's Mission District, it was way, way ahead of the bougie, tech-driven curve. It was 2007, and the neighborhood had been dominated by dive bars and late-night taquerias for decades. And yet the people, charmed by friendly staff, farm-to-table eats, and an insane list of nearly local, imported, and impossible-to-find microbrews — we're talking 29 rotating taps, 150+ bottles, and Pliny by the caseload — soon grew to love the sunny gastropub. Sure, nabbing a table might be tough these days (Monk's has always been strictly first come, first served), but try not to hate on the wait — once you elbow your way inside that warm, wood-paneled space, you'll for sure never want to leave.
Fort Collins, Colorado
One-hundred beers on tap is a mighty feat for any beer bar, but what sets the fair Mayor apart is that they change all the damn time. They're a modern beer bar through and through: their Twitter feed offers constant updates on what's just been tapped, and they also have their own iPhone/Android app. Plenty of those new brews on tap (and about a third of the total tap list) are Northern Colorado beers — not surprising since they're within a short bike ride of stalwarts like Odell and Funkwerks. Great local breweries often collaborate with the Mayor to create small-batch goodies for their customers, too. You never know what you're going to get. But rest assured it will be incredible.
Seattle, Washington
OK, so the name referencing this Seattle institution's digs in an old funeral home (where Bruce Lee's funeral went down, no less) is simultaneously cool and a bit creepy, but such novelty only gets you so far. Having a bar crafted from the old shelves of the crematorium is fun and all, but what's coming from behind said bar is even MORE fun (specifically, 30+taps of extremely well-curated, West Coast-heavy brews). Tack on a pizza (smoked salmon, anyone?) and it'll be like you've died and gone to heaven, but only in the most happy and figurative of senses.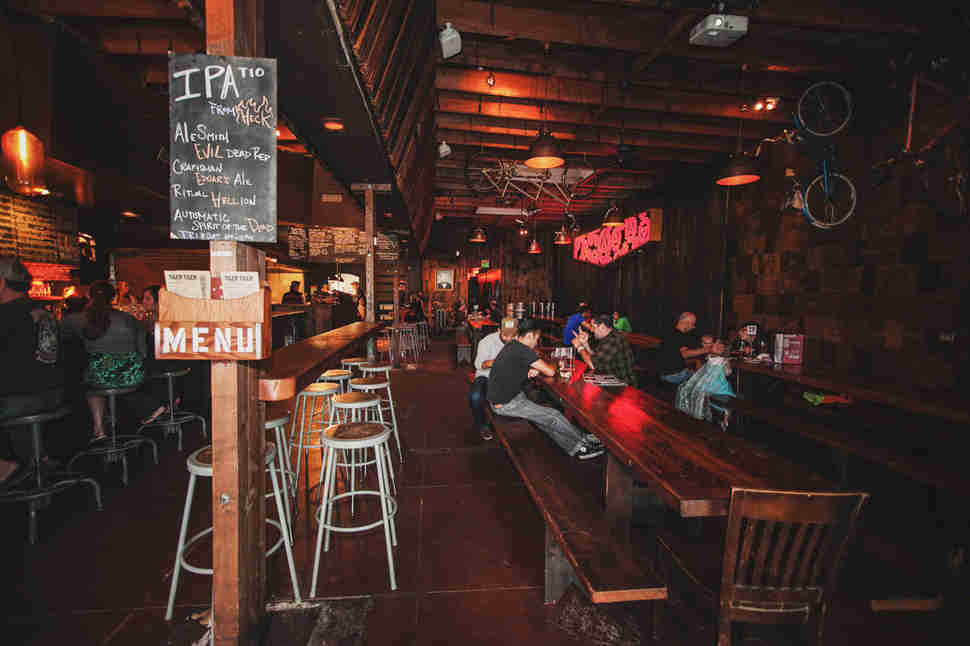 San Diego, California
Despite its tendency to remind you of endlessly getting your ass kicked in Street Fighter, Tiger!Tiger! has a lot more in common with Homer Simpson, in that its two specialties are beer and donuts. And that, friends, is enough to make them one of the best damned beer bars in the US. Said donuts are only served on Sunday, but that just gives you an excuse to start working on their immaculately clean (lines are scrubbed after each keg is blown) and expertly selected taps, which change all the time and on Fridays feature themed flights. Throw in homemade chicken biscuits and amazing charcuterie to go along with those beers and donuts, and your lazy Sunday just got lazier. But really, the donuts are just the (ugh) icing on the cake. The beer makes every day at Tiger!Tiger! a good one.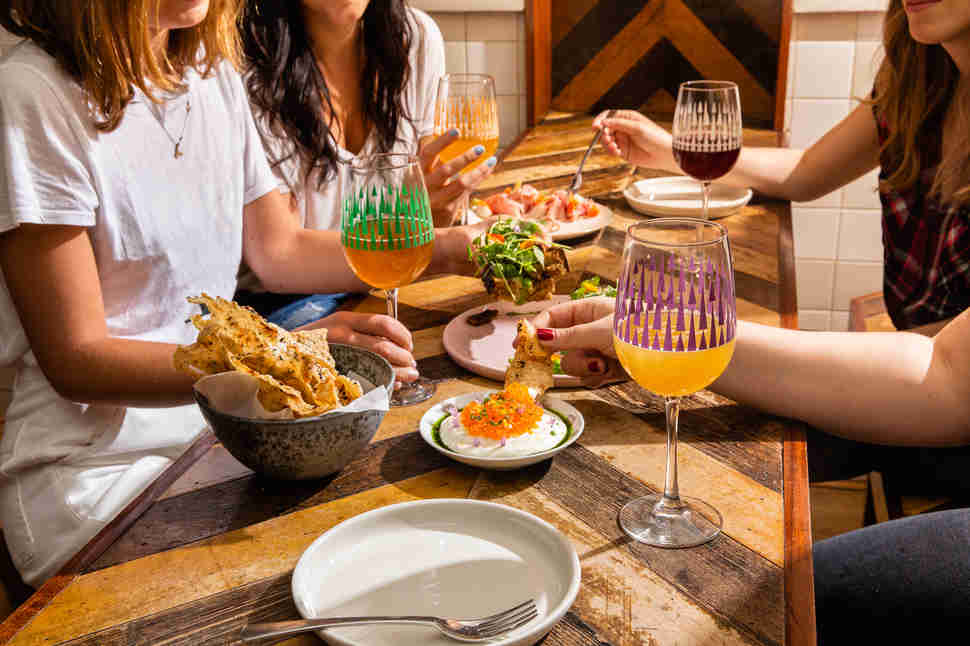 Brooklyn, New York
Even if your name is Adolphus Reinheitsgebot BeerAdvocate III, the chances of you running into something you've never had from this Greenpoint spot's sparse, but obsessively selected, taps are strong. Hell, you may not recognize anything on the menu here, but this places is curated with a dedication bordering on obsession, so it doesn't really matter because they're all going to be beautiful. The 21 carefully selected taps are hooked to a high-tech, temp-regulating system and are organized from light to dark. Oh, and don't worry if you don't know what the hell the taps are pouring. The staff knows their stuff, and won't shun you for asking.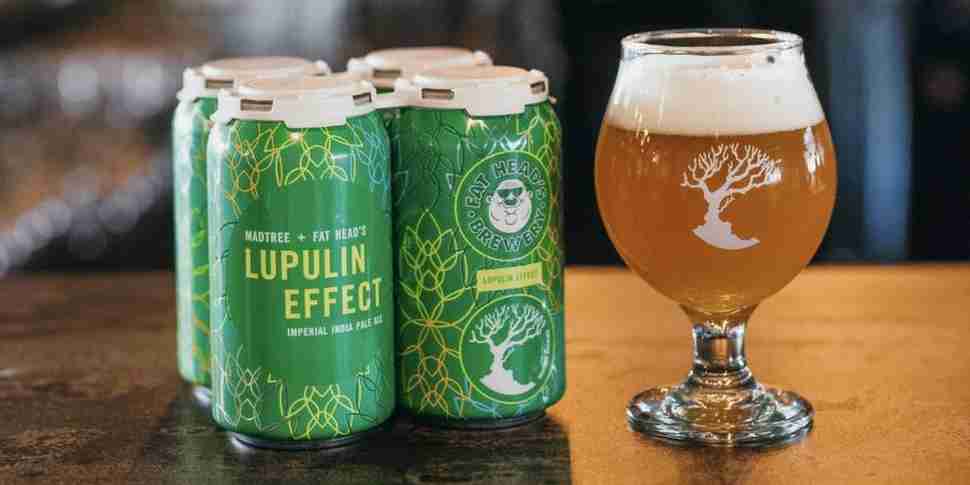 Cleveland, Ohio
This perpetually bustling Cleveland pub (forgive it for continuing to trot out "gastropub," though truth be told, the food is damn good) has won a loyal following based primarily on the strength of a carefully maintained draft list deep with rarities, Ohio favorites, and rare Ohio offerings. Exciting kegs will often kick fairly quickly, but fear not, there's usually something equally interesting on deck — also, this place is generally pretty cool about letting you know what's on deck. And letting you drink on the deck, which represents one of the best drinking patios in the neighborhood.